Groundcovers and Vines for the Southwest
Try these vines and groundcover plants if you live in the Southwest:
EVERGREEN CLEMATIS – This broad leaved vine is interesting used along a fence or'on a roof gable where its leaves can hang down. Known scientifically as Clematis Armandi it grows to 20 feet in any average soil and prefers a sunny location. Buy strong well-developed plants as buds on weak, small plants are apt to be blind, producing flowers but no growth.
CATS-CLAW – A fast growing rampant vine, Doxantha Unguis—cati has broad evergreen leaves and clings to masonry. Give it a hot sunny location in any garden soil and it will cover a bare wall quickly.
CAROLINA YELLOW JESSAMINE – This vine might be used as a ground cover but is beautiful hanging on a trellis. It likes frequent irrigation and, when well watered, blooms intermittently all year round. Any average soil will do, but give it sun. You'll find it listed as Gelsemium sempervirens.
STAR JASMINE – Once established this plant has remarkable heat and cold resistance. It demands water and may be used as a vine or ground cover. Its small white flowers in spring are intensely fragrant. Known as Trachelospermum jasminoides it will grow in sun or shade in any good garden loam.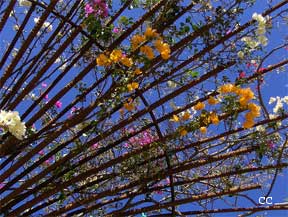 ALGERIAN IVY – Without the control of shearing, who knows how far the stems of this lush tropical looking broad-leaved vine will reach? You'll find it listed as Hedera canariensis. It may be trained on a trellis. Its dark green leaves are superior to either its variegated form or to English ivy.
BOUGAINVILLEA – Wherever a large vine is needed in a sunny location in the warm coastal areas, a bougainvillea will serve. There are many varieties from which to choose. Handsome on a trellis, any of them make stunning ground covers, especially on banks. Covered as they are with vivid flowers, watch for color clashes with nearby plantings. The stems of this vine reach out 20 feet.
CREEPING FIG – Especially nice clinging to risers of masonry steps, this broad-leaved vine is worthy of trial as a ground cover. Known as Ficus pumila it likes any average soil and sun or part shade. It stretches out 20 feet or more. Be sure to remove all fruiting branches.
CARPET BUGLE-WEED – As a ground cover where there is no traffic this plant, also known as Ajuga reptans, is ideal. It reaches 6 inches in height and has remarkable heat resistance but does best in filtered shade in an average soil. There are new varieties available with green leaves and pink flowers and others with bronze leaves and blue flowers.
COMMON PERIWINKLE – Be sure to ask for Vince minor when you buy common periwinkle, avoiding its close relative, Virtca major, which is not as suitable for general garden use. This low growing plant will grow in average soil. Inland, it requires some shade but it will stand open sun near the coast.
STONECROP – Listed as sedums in books and many catalogs, the stonecrops are succulents 3 to 6 inches high. There are numerous varieties, green or reddish in color, and all make wonderful ground covers. They will grow in sun or shade in average garden soils.
Over 22,000 subscribers
GET our free email newsletter...
Sign Up Today:
Still Need Help? Type Your Keywords Here: